PRODUCTION LAYOUT
Production layout from raw material up to finished product.
Fusion
Two electric induction furnaces INDUCTOTHERM of 3 Tn/h capacity with 1950 Kw/h power
Nodulización
Nodularising with continuous wire on ladle to guarantee an uniform concentration in each reaction.
Moulding
Automatic impact moulding line at 120 mould/hour speed. Moudling box dimensions 750 x 610 x (250+250) mm.
Core Box

Automatic core box production for both hot and cold box types.
Pouring
Automatic pouring line and maintenance furnace with nitrogen pressurization.
Blasting, Separation and Grinding
DISA station blasting continuous model CT-3 located off the cooling drum. Separation and casting parts. By hydraulic slips, the pieces are placed in labeled reference for each batch containers. Four manual posts. Two CNC deburring stations for parts up to 400mm (MAUS 400) and parts up to 600mm (MAUS 600).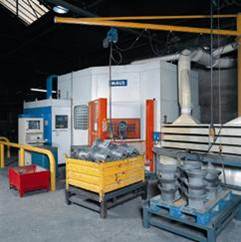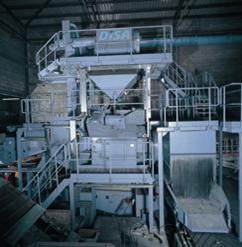 Internal shot blasting
For hydraulic products the inner sides are cleaned with automatic internal shot blasting machines and controlled with endoscope.